News & Views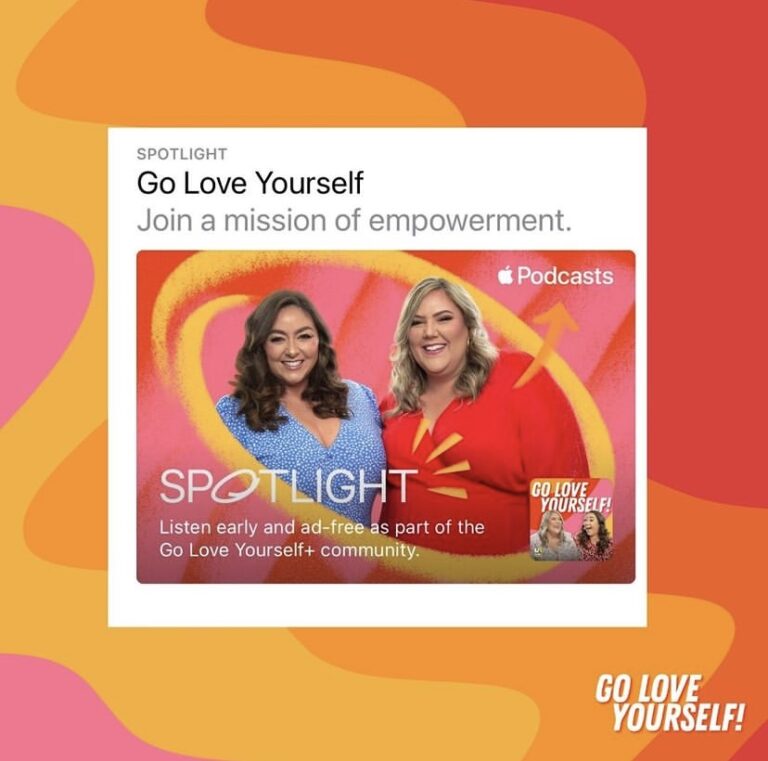 Apple Podcasts Spotlight: Go Love Yourself
11 January 2023
After launching last January, Go Love Yourself has had a whirlwind year. 2023 looks set to be no different, due to a partnership with Apple Podcasts to kick it off!
Committed to uplifting unique shows and communities, as of November of last year, the Apple Podcasts team has been shining a 'Spotlight' on podcasts, helping them to spread their messages even further. Spotlight is an editorial initiative for Apple Podcasts, dedicated to the most important aspect of their platform: the creators.
From the beginning of January, the Go Love Yourself team will be taking centre stage across Apple Podcasts to spread self-love.
Spotlight will see Go Love Yourself feature prominently across Apple Podcasts, including special features on Browse and various collections  across the platform.
Go Love Yourself, which is presented by GBBO finalist Laura Adlington and her best friend, Lauren Smith, aims to empower people to feel good about themselves and their bodies. Now in its second series, the podcast tackles topics such as body image, confidence, and all things self-love.
George Sampson, Marketing Manager at Crowd Network, said: "Crowd and Apple Podcasts have had a wonderful relationship for years now. Working with their team has always been a delight and this project has been no different. I'm so grateful that Laura, Lauren and producer Ffion Clarke are being celebrated for their immense talent and beautiful message. It speaks to the brilliance of our slate and to how in touch Apple are with their creators."
"I've loved watching Go Love Yourself thrive and build such a strong, inspiring community. Spotlight is sure to be the start of another great year for them and their amazing work. It'll help them reach more people who need to hear their words of affirmation and self-love."
Have a listen to Go Love Yourself on Apple Podcasts here: https://podcasts.apple.com/gb/podcast/go-love-yourself/id1603872017
Back to news