News & Views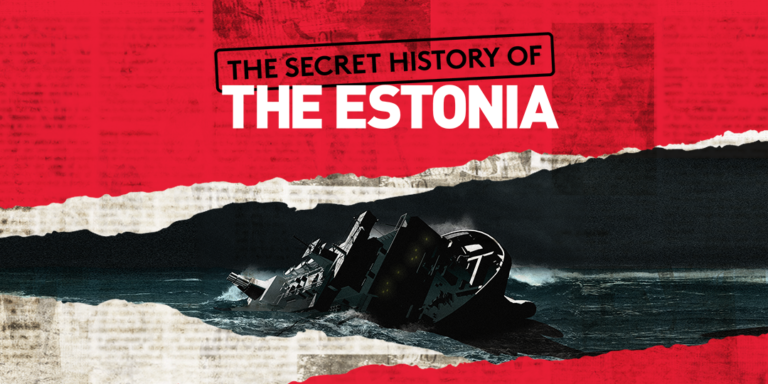 The Secret History returns for a Second Series
14 December 2022
We're delighted to announce that The Secret History podcast is returning for a second series, following the success of the first run that reached the top of Apple's True Crime charts! This time it is investigating the Estonia – a passenger ferry that sank in the Baltic Sea in 1994, claiming 852 lives. The Secret History of the Estonia, set to launch in January 2023, investigates the murky truth behind the Estonia's sinking, uncovering an unforgettable tale of spies, a missing sea captain, smuggled military equipment, Interpol and a Cold War that never ended.
The latest instalment of The Secret History sees renowned investigative journalist Stephen Davis once more working alongside one of our senior producers, Samantha Psyk. Stephen and Sam worked closely together on our hit first series, The Secret History of Flight 149, which explored the story behind of British Airways passenger plane caught in the crossfire of Iraq's invasion of Kuwait in August 1990. The series delved into the decades-long cover up that followed, featuring the voices of those held hostage by Saddam Hussein. The show has amassed one million downloads to date since it launched in February 2021, has been featured as one of Apple's 'Shows We Loved 2022', and has been nominated for the prestigious 'Spotlight' award at the New Zealand Podcast Awards.
In this new series, Stephen and Samantha travelled to Estonia and Sweden to record with survivors of the sinking and with family members of victims. Through a series of powerful interviews, survivors recount horrific testimonies of attempting to escape a sinking ship and making it through a brutal Baltic storm. Family members share how the disaster has affected them and why it's so important the truth is revealed. Whilst recording the podcast, Stephen and Samantha took an overnight crossing of the Baltic Sea themselves, to follow the path of the Estonia's fateful journey.
The series joins our well established Crowd Stories division, home to compelling podcast investigations and engaging story-led shows. As well as The Secret History of Flight 149, Crowd Stories is also home to true crime chart-toppers Murder in House Two and American Vigilante.
Crowd Stories is one of three of our rapidly growing content divisions, alongside Crowd People and Crowd Sports. Our five-strong team welcomed its first development producers earlier this year, working on shows set to launch in 2023. The division works closely alongside investigative journalists and storytellers to bring Crowd podcasts to life, with our content ownership model enabling us to retain and share IP of these shows.
Stephen Davis, presenter, said: "This is one of the most eye-opening investigations I have worked on in my career. The sinking of the Estonia was the worst peacetime shipping disaster in Europe since the Titanic yet a flawed official inquiry and dubious decisions by several governments mean that all these years later we still don't know for certain what caused the disaster."
Samantha Psyk, senior producer at Crowd Network, said: "The sinking of the Estonia is a horrific tragedy, and the survivors and families of victims deserve to know the truth behind what happened that night. We are so thankful to everyone who has come forward to share their stories with us, and we hope this series can continue to raise their voices and bring attention to this devastating case."
Mike Carr, CEO at Crowd Network, added: "It's a pleasure to welcome back Stephen to Crowd Network, to work closely with Samantha on yet another eye-opening podcast. They bring a level of investigative journalism to the show that is unrivalled, and have gone to great lengths to get to the truth of the case.
"The Secret History of the Estonia will be joining the same home as three of our number one true crime podcasts, and I'm certain will capture listeners' imaginations with the same fervour. The care and attention to detail that go into our Crowd Stories shows truly sets them apart, and we're honoured to have some of the best storytellers in the field come to us to partner and bring new shows to life. It means we have even more thrilling shows in the pipeline for 2023 and beyond, to join the likes of The Secret History of the Estonia."
Back to news