News & Views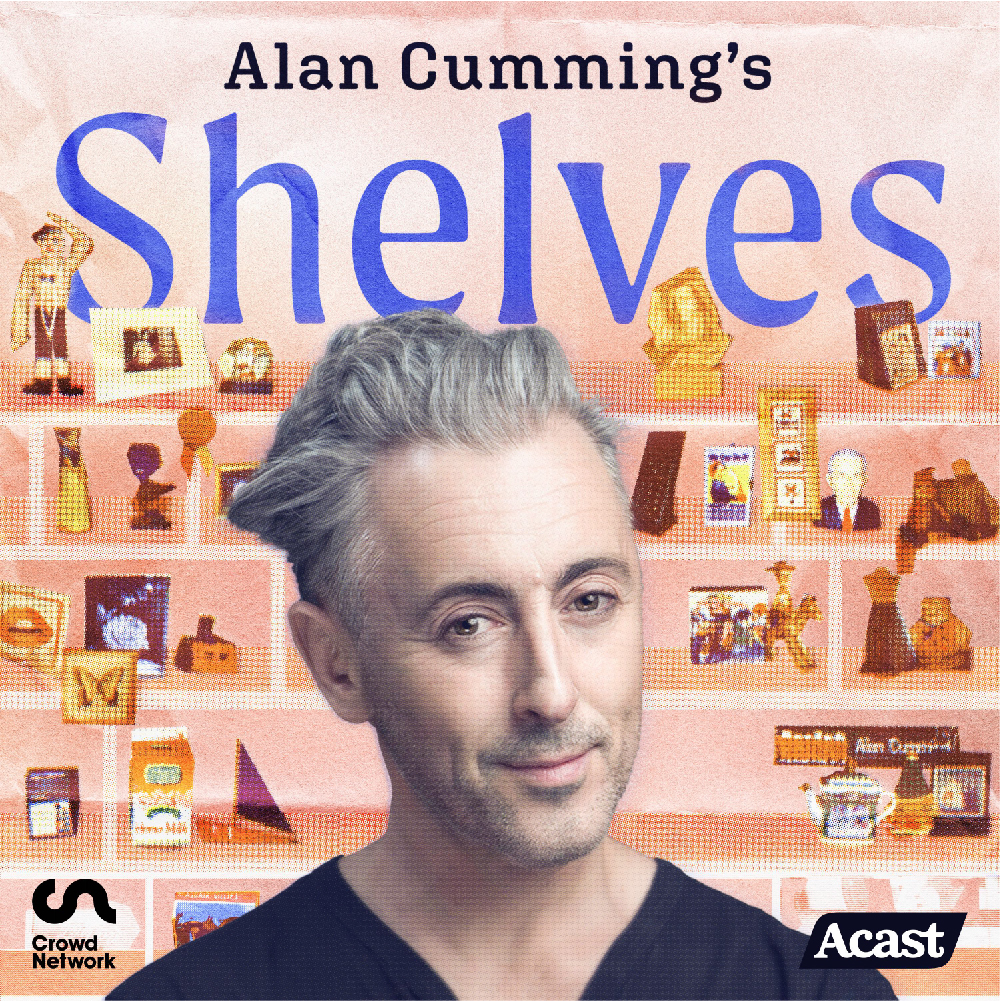 Introducing Alan Cumming's Shelves – A brand-new podcast with Alan Cumming
24 May 2021
Actor, writer and activist Alan Cumming is taking a trip down memory lane in his new podcast Alan Cumming's Shelves, launching on Tuesday 18th May.
Produced by leading audio-on-demand network Crowd Network in partnership with Acast, the creator-first podcast company, each episode sees Cumming sit down with a new special guest, selecting a curio from the shelves in his home that represents a different story from his varied career.
Cumming will be joined by some of the best-known names in music, theatre and culture, including Sir Ian McKellen, Cyndi Lauper, Monica Lewinsky and Geri Halliwell. He will also speak with lesser-known close friends including a perfumier who created Alan's own fragrance 'Cumming the Fragrance' (and the soap 'Cumming in a Bar').
Alan Cumming's Shelves is Cumming's first solo podcast venture after co-hosting the smash-hit Homo Sapiens. It delivers some fascinating unheard stories from his own life and those of his guests. The curiosities, rarities and oddities discussed in the show include a pair of white gloves Cumming wore in a threepenny opera he performed in with Cyndi Lauper, Spice Girls merch from his time filming Spice World with Geri Halliwell, and a hemp dog collar that prompts a story about a nudist beach trip with Sir Ian McKellen.
Cumming said: "It's been a delight to delve into the weird and wonderful items I've collected over the years with friends. These shelves are a museum of my life, portals into a specific time and place – whether that's a tin of mints from the 2004 Democratic National Convention or an ashtray from a gala where an auctioneer told Jennifer Lopez she looked like an ostrich. The podcast is a stroll down memory lane with some of the characters that appeared in these stories, and I cannot wait for listeners to join us."
Mike Carr, CEO of Crowd Network, said: "We are thrilled to be working with Alan, and his charisma, knack for a good story and the genuine connection he has with his guests makes for a brilliant show that I'm sure people will want to hear more of. It's exactly the type of series that Crowd Network is fuelled by, one that brings listeners together through unforgettable stories."
The podcast will launch on Tuesday 18th May, with the first episodes featuring Sir Ian Mckellan and Cyndi Lauper. Episodes will be released weekly each Tuesday. Alan Cumming's Shelves is part of the Acast Creator Network, and is available on Apple Podcasts, Spotify, Google Podcasts, Amazon Music, and everywhere you listen to podcasts.
Alan Cumming's Shelves will add to Crowd Network's growing roster of podcasts, having launched 13 since September 2020, including recent additions Death of a Film Star, Geraint Thomas Cycling Club, We Didn't Start The Fire, and The Joe Marler Show.
Back to news